Our story
IE began life in 1994 as a Brand Consultancy, founded by our MD Ollie Leggett.
As a former teacher, design lecturer, and charity trustee, Ollie had a passion for helping Charity, Health and Education clients to connect with their audiences and gain access to the industry's best creatives – something that, back then, was all-too-commonly only possible for 'big business'.
In 2002, IE bought a digital agency, after recognising that digital platforms were becoming one of the most important expressions of brand – and we were fed up of seeing our work butchered by techies. So the two companies merged and became the agency we are today: A team of around 20 consultants, researchers, writers, brand designers, and developers based in the historic Jewellery Quarter in Birmingham. And we still remain true to our original vision – helping values driven clients to harness the power of their brands.
Whether it's helping charities to tell their stories or recruit donors, helping universities to attract and engage students, or helping healthcare organisations to inform and educate patients – we're the voice of the audience, and it's our job to turn them into your loyal brand advocates.
That's why we're the brand agency for Charity, Health & Education.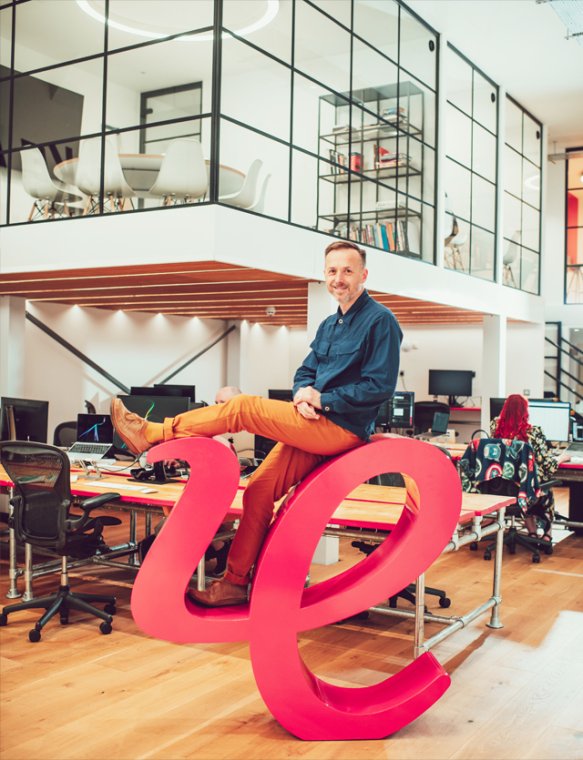 Our team
Call us big headed, but we're pretty confident we've got the best people in the industry.
Because IE Brand is only as good as its people. Our studio is full of some of the industry's best consultants, researchers, creatives, designers, filmmakers, typographers, copywriters, artworkers and techies – all under one roof.
David Crichton
Creative Director and Brand Consultant

Email David

With over 20 years' industry experience under his belt, Dave serves as IE's Creative Director – leading IE's brand offering and award winning design team, as well as working as a Brand Consultant.

Beginning his career as a Graphic Designer and making a gentle transition to consultancy, Dave combines his agency experience – which has seen him work with clients across almost every sector – with his love of design, writing and filmmaking.

Dave can often be found knee deep in research for a brand project, locked away in a room writing key messaging, art directing a visual identity project, on location for a campaign film, or bringing clients up to speed and running workshops.

Under Dave's direction, IE Brand won two Golds at the Transform Awards Europe 2017, for Best Visual Identity from the Education sector and for Best Brand Architecture Solution. Dave has spent his life and career obsessed with the power of brand, and helping clients to connect with their audiences by standing out from the crowd, and telling their story to the world.

Over the last few years, he's been thoroughly immersed in the worlds of charity, health and education – and before that worked with a number of blue chip clients, including investment banks and building societies, record labels, TV production companies and retail.

Dave and his wife are the proud parents of two young daughters, who take up the majority of his time outside of work. However, he tries to find time to indulge his passion for playing piano, and creative writing – he is often to be found working on speculative screenplays, and is a published non-fiction author.

Ollie Leggett
Managing Director & Brand Consultant

Email Ollie

Driven by a desire to stand alongside values driven organisations and to make a difference through the power of brand and digital, Ollie founded IE in 1994 and continues to support IE's more complex brand consultancy projects.

Notable not-for-profit clients include Christian Aid, Teach First, FPA (Family Planning Association), pfeg (now Young Money), Career Ready, Charity Job, Goldman Sachs Foundation, Cranfield University, University of Cambridge, and the universities of Aberdeen, Aston, Birmingham, Bristol, Imperial College London, Liverpool, Plymouth Marjon, Queen Mary UoL, Reading, Warwick and York.

A regular speaker at CHASE, CASE and AGCAS, Ollie has worked in the creative sector for 25 years and is an opinion leader on the subject of optimising business practices within the creative industries. A passionate advocate of self-improvement and the power of peer networks, Ollie is a graduate of business school programmes at Cranfield School of Management, London Business School and Aston Business School.

Ollie was awarded a Goldman Sachs Foundation small business leader scholarship to study toward an Executive MBA at Aston Business School. His Final Project entitled "Assessing the value of the CBIRM (Corporate Brand Identity and Reputation Matrix) framework to an international charity seeking to re-articulate its corporate brand" utilises the charity Open Doors International as a case study. In 2018, he graduated with Distinction.

He is a Visiting Industrial Fellow and Guest Lecturer at Aston University, a BSEEN business mentor, a volunteer for the Ahead Partnership and a Queen's Small Business Charter Mark business school assessor for the Association of Business Schools. Ollie recently retired as a trustee of Trident: Reach The People Charity (a £14m+ social investment charity in the Midlands) to become a founder member of Christian Aid's Salt Business Network.

Ollie was consulted by Lord Young as he gathered insights for 'The Report on Small Firms' and Lord Heseltine for his report 'No Stone Unturned in Pursuit of Growth'. Lord Young's office expressed thanks with an invitation to No.10 Downing Street and the Queen's Garden Party.

Outside of work he's a keen runner, cook and figurative sculptor. He has raised thousands of pounds running for Midlands charities, and is aiming to achieve a sub 3.5hr marathon by the end of his 50th year.

Kate Stone
Director of Operations and Finance

Email Kate

Kate has been with IE for 15 years and is always striving for ways to do things better.

After qualifying as a Chartered Accountant with Grant Thornton, Kate enjoyed working with clients as a Business Services Manager. Her understanding of finance informs her passion for excellent project management.

Kate is PRINCE2 trained and is an enthusiastic exponent of the 'Agile' project management philosophy. Together with the Consultant, Kate will ensure that your project is well resourced and delivered.

Outside of work she enjoys boot camp sessions in all weathers.

Ed Wilkinson
Digital Services Director

Email Ed

Ed joined IE as a Web Applications Developer in 2008 after completing a BSc in Artificial Intelligence and Computer Science, and an MSc in Intelligent Systems Engineering, from the University of Birmingham. He grew into a senior development role, before taking a step away from writing code and towards user experience and technical consultancy. Nowadays – along with leading IE's digital team – you'll find Ed delivering discovery and UX workshops, facilitating user testing, crafting innovative new information architectures, and advising clients on how best to leverage and connect different digital tools in a compelling user experience.

Ed has spent the past 11 years immersed in the challenges faced by the charity, health and education sectors – from their aspirational goals and 5-year strategies, to the best technology choices, and right down to the individual lines of code required to deliver an experience that will make a measurable impact on achieving objectives.

Ed manages IE Digital's project, helpdesk and support teams – and is responsible not just for the initial delivery of high-quality digital experiences, but for the ongoing management, support and improvement of those experiences over time.

Together with keeping his technical and coding skills sharp through various personal projects, outside of work, Ed's insatiable appetite for real-world problem solving extends to home automation, DIY and interior design. If there's any time left after that, it's spent reading science-based non-fiction, astronomy, DSLR photography and playing the occasional video game with friends.

Josie Evans
Senior Designer

Email Josie

Josie joined IE from a London branding agency, where she cut her teeth on a range of clients – from blue chips, luxury hotels and pharmaceutical brands to charities and art museums.

Over the course of her time at IE she's led the design for a range of charity, health and education clients – creating new logo marques, bespoke typefaces, art directing photoshoots, and creating dynamic, responsive brands. She's also designed many websites, led on numerous social campaigns, and is as skilled online as she is offline.

For Josie, design is all about having fun and she aims to produce beautifully crafted work that is always rooted in a strong idea that tells a story and provokes an emotion. She believes in pushing her ideas to the limit, then reigning them back in. She's particularly passionate about designing for print but enjoys developing brands across all media.

Josie was named the Creative Young Contender 2021 at the Transform Awards Europe. She has a first in Graphic Design from Falmouth University.

Outside the studio, she's been experimenting with making coloured concrete plant pots, which she one day hopes to sell. She teaches swimming to children and enjoys running and yoga.

Sara Shailer
Associate Marketing/Brand Consultant

Email Sara

Sara provides expert support on key marketing strategy, research and planning projects at IE.

She enjoys the challenges of developing marketing strategies that will enable clients to stand out from the crowd, and identifying new routes for growth that will maximise potential.

She has an impressive track record of high-quality delivery in the commercial and not-for-profit sectors, working with organisations including CMI Strategy, CSH Surrey, and the Amateur Swimming Association.

Sara is dedicated to inspiring insight; she loves to design and deliver research that will make a difference, be it e-surveys, face-to-face or telephone interviews, focus groups or data analysis. She's also an experienced facilitator, working with and inspiring clients and their in-house teams through problem-solving and scenario-planning workshops, team meetings, coaching sessions and more.

Sara has an MBA from Warwick University and is PRINCE2 qualified.

Sheri Dykes
Associate Designer

Sheri is a designer and illustrator working from the wild West Coast of Scotland.

Before taking the freelance plunge she worked for agencies in London and Bath on a diverse range of branding projects, from Scouts to Ben & Jerry's.

She's a Falmouth graduate with an idea-first approach and a keen eye for craft.

Tim Harbon
Associate Designer

Email Tim

After graduating from Bath School of Art and Design with a degree in Graphic Communication, Tim began his design career working as an in-house designer for Purity Brewing.

Since then he's worked both agency-side and as a freelancer. His diverse skill set has enabled him to work for several high profile clients, especially bars and restaurants, passionately creating brands that please the eye, while never forgetting to serve their purpose.

A keen illustrator and a self-proclaimed "ideas person", Tim's design process always starts with an airtight concept and a desk-full of doodles – some of them worth keeping.

Outside work Tim also illustrates for pleasure and is in the process of writing and illustrating a children's book. He also enjoys infuriating his wife and daughter with his love of drumming, brewing his own beer and climbing mountains as often as he can.

Having worked with IE for many years as a full-time member of the team, Tim now works with us as an associate designer, and we continue to make great use of his talents on a regular basis.

Denise Atkins
Associate Marketing and Content Consultant

Email Denise

With over 20 years' experience in marketing across a number of sectors, Denise is IE's content marketing specialist.

Denise enjoys nothing more than working with talented experts and promoting that expertise to clients, be it through brand messaging, thought leadership, social media or events. She creates clean and engaging copy for our clients as well as for IE.

She's trained with Content Design London and takes a keen interest in user-driven content and accessibility. She's also our go-to PowerPoint whizz, adapting the work of our design team into brilliant branded templates that make creating on-brand presentations a breeze for our clients' teams.

Denise is as passionate as we are about working with values-driven clients, particularly anything to do with animals, the environment or the arts. Outside work, she is a keen amateur photographer and appreciates a wide range of entertainment and culture.

Dan McQue
Associate Designer

Email Dan

Dan is passionate about branding; he crafts elegant and scalable design systems for print and screen.

He delights in rationalising and resolving complex communications into simple, coherent and beautiful user experiences. A brilliant typographer, Dan has a keen eye for detail and a sensitive approach to design. Working closely with IE's consultants Dan often leads the design process, converting research and feedback into a visual approach to inform the design.

A multi-award winning designer, Dan consistently produces industry-leading work, has been featured in online galleries, magazines and a book. He worked at IE for 18 years before switching to the freelance life.

Outside of work Dan enjoys anything astronomical, loves taking pictures and drawing, and is always up for a game of ping pong!

Dan holds a BA Honours degree in Design for Communication Media and graduated from Manchester University in 1996. He lives and works from his home studio in Brighton and regularly attends design related conferences.

Jordan Peck
Senior Front End Developer

Email Jordan

Jordan is an experienced web developer with over 8 years in e-commerce and the digital industry.

Jordan initially studied art and design, with a placement as a Junior Web Designer. He quickly realised that he wanted to take on the technical build on projects and bring his designs to life. He went on to study Web Development at Staffordshire University, achieving a first class BSc honours degree.

He went on to work both client-side and within agencies as a web developer. This has given Jordan experience of working with multiple CMS platforms, including WordPress, Magento, Shopify and Shopware, as well as experimenting with headless sites. He's now joining IE as a Senior Front End Developer.

Away from the screen, Jordan enjoys going to the gym, travelling, photography and watching motorsports.

James Marsh
Senior Digital Consultant and Head of Support

Email James

James joined the IE team in 2012 as a Digital Consultant.

He brings his experience and knowledge of user experience to a diverse set of IE's clients – specialising in those projects that demand a detailed understanding of audience.

James has a BA Interior Architecture and an MA in Design Management, and has worked designing, building and managing internet sites, intranets and mobile platforms for the last 15 years in some of the UK's biggest and best known FTSE companies. He has also worked as a Wine Shop manager and Furniture salesman.

Outside of work he bakes bread and drives a VW Camper.

Jodie Pryce
Digital Consultant

Email Jodie

A Digital Consultant with experience as a producer of websites, apps and ecommerce platforms, Jodie has a passion for new technologies and is constantly learning.

A business management graduate, Jodie's primary focus is always on nurturing strong relationships with her clients, built on two-way communication and transparency. She strives for excellence, and is constantly seeking process improvements.

She began her career at Keele University' as part of the Student Support team, focusing on digital. She then moved to a digital agency, in a production role for big brands in fashion/retail, technology and insurance. She jumped at the chance to transfer her experience to IE's clients in charity, health and education.

When she's not working, Jodie loves to travel whenever she gets the chance. So far her wanderlust has taken her to the US, Thailand, Barbados, Egypt, and throughout Europe.

Sophie Kish
Digital Project Manager

Email Sophie

Sophie is an experienced digital project manager with over 8 years in the industry.

She has worked on over 100 projects across multiple sectors, from food and finance to charities and construction. She has extensive experience across the whole agency spectrum, working on projects from brand and creative work through to producing websites, apps and custom platforms.

With a passion for processes and a keen eye for detail, Sophie takes pride in delivering high quality work. She loves making a difference for her clients, by bettering their online offerings, making best practice recommendations, and offering advice to improve the user experience for service users.

Sophie's background is in film and media. She graduated with a 1st class BA Hons and has successfully transferred the skills she learnt in her degree into her project management and production roles.

A self-confessed crazy animal lady, Sophie loves spending time with the furbabies in her life. She also loves to sing, bake, take photographs and go on adventures with family and friends.

Nathan Powis
Head of Development

Email Nathan

Nathan heads the digital development team at IE. He has over ten years' experience as a web developer and programmer at various creative agencies, and a Degree in Information Technology and Physics.

His passions include building custom, bespoke digital solutions using cutting edge frameworks and web technologies. Nathan utilises the logical problem- solving approach learnt in his physics modules to build elegant solutions to client problems. He's recently taken the step up to become IE's Head of Development, and qualified as an Acquia Certified Drupal Developer.

Outside of work, Nathan is a gym freak, and enjoys listening to a broad range of music spanning all genres and is an avid gig/concert goer.

Kat McElroy
Helpdesk Analyst

Email Kat

Kat has a winning combination of technical knowledge and top notch communication skills, which she's putting to good use as IE's Helpdesk Analyst.

She took a BSc in Multimedia from Birmingham City University, covering everything from photography, filmography and design to programming and industry knowledge. In her spare time she was writing creatively, and her urge to make online forums prettier and more and user-friendly led her to explore web design and development. She built a prototype web app for her dissertation to creatively display story data for authors, before completing an MA in Creative Writing at the University of Birmingham.

Kat's work life took her to become first a developer, then a copywriter for a small company, so being the face of customer support at IE Digital is the ideal marriage of these key skills.

Outside work you'll find Kat entertaining her young son, crying over her novels-in-progress, watching terrible TV, playing video games, and talking about astrology.

Dan Lewis
Web Developer

Email Dan

Having dabbled in a bit of self-taught Java and Ruby from a young age, Dan jumped at the chance to take up an apprenticeship with a local web development agency.

In his 4.5 years there he delivered bespoke WordPress sites and custom Laravel applications for a range of clients, from a nationwide childcare company, to the McDonalds Maintenance & Repair Department.

A life-long member of the Scouting community, first as a Scout and now as a leader, IE's focus on values-driven organisations appealed to Dan. As our newest recruit, he's building on his existing skills to quickly get to grips with projects in Drupal 8, CiviCRM and SOAP integration, as well as continuing to work on our WordPress sites.

When not coding, Dan can usually be found hanging off the nearest climbing wall, strumming his guitar, or exploring a good open world RPG.

Iris Keenan
Associate Fundraising Consultant

Email Iris

Iris has been working in the fundraising sector for nearly 20 years. She is a visionary leader with a heart to develop and inspire people to achieve their goals and grow as individuals.

As well as her consultancy work, Iris works part-time as Director of Programmes and Supporter Engagement for a small international development charity. Her experience ranges from heading up fundraising teams in large organisations such as Oxfam and World Vision, working in international marketing strategy advisory groups to coaching and mentoring teams in small charities to help them bring a step change to their fundraising.

Oliver Westmancott
Associate Digital Consultant

Email Oliver

Oliver first started working with IE in 2000 and became a director when IE bought his consultancy business in 2003.

Although no longer hands on with production work, Oliver still loves technology, particularly when it's applied to solving real world problems.

He provides hands-on consultancy support to key clients, leading co-creation workshops with stakeholders from the likes of including Public Health England, NHS Digital and West Midlands Fire Service. He recently addressed a delegation of Chinese healthcare executives through Nine Health CIC and presented at the HIMSS Executive Leadership Summit.

Oliver loves to wrestle with the strategic challenges of organisations and to look for interesting digital solutions to those challenges – appropriate for the world we live in today.

Alongside IE's MD Ollie, Oliver graduated from the Business Growth Programme at Cranfield School of Management.

Outside of work, he has an eclectic range of interests from breeding ducks to hand developing photographic film.

His real passion though is for seeing peoples lives transformed, both here in the UK and across sub-Saharan Africa. Oliver feeds this by working as an elder of his church (The Forge) and as a supporter and advocate for a South African charity (Hands at Work) working with the poorest of the poor in eight African countries.
Careers
IE Brand's people are our most important asset.
We believe in investing in the next generation of consultants, copywriters and designers. That's why we created the IE Academy – a recruitment programme for creatives.
Each and every member of the IE Brand team shares our ethos, and we encourage the team to participate in charity / community projects, which are supported by the agency. And we're in the process of becoming a certified B Corp.
Anyone can make a brand. We're making a difference.
Our benefits:
We're trialling a 4 Day Week for the whole team from 1 June
25 days holiday (plus bank holidays)
Hybrid working*
Flexible working hours
Time off in lieu
Paid overtime
Buy/sell holiday
Health cash plan
Time off for community projects
Pension scheme
Personal training budget
IE Digital is proud to be accredited by the Living Wage Foundation, for voluntarily paying a higher rate of base pay.
*Hybrid working
We're currently trialling hybrid working. We're all working together in our beautiful new studio in Birmingham on Mondays (or Tuesday if it's a Bank Holiday). And for the rest of the week, our team has the flexibility to work from home or from the studio based on individual preferences, the nature of roles and training requirements, and the needs of your team and the wider business.
If there are no vacancies listed below it means we're not hiring for any specific roles right now. But if you think we're missing out by not having you on the team, please send your CV to hello@iebrand.co.uk.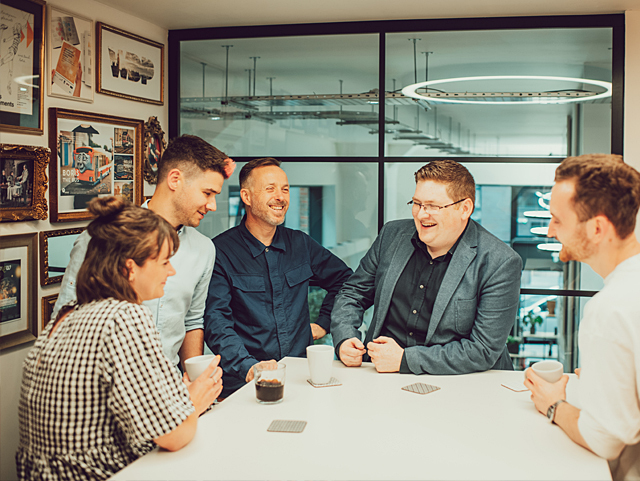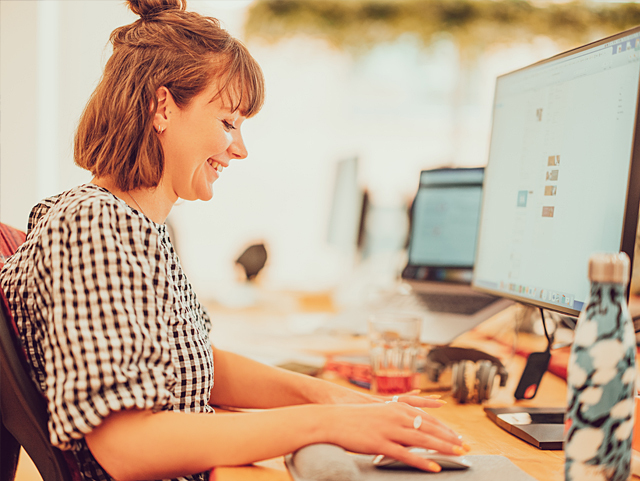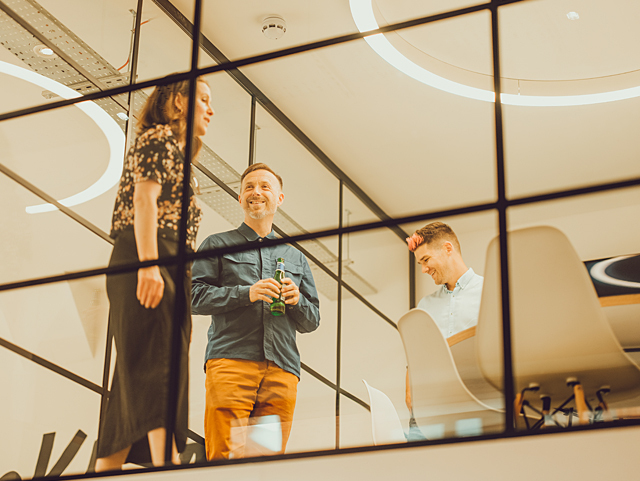 Location
IE Brand is proud to be a Birmingham agency, but that doesn't mean we only work in and around the UK's second city.
With so many UK charities choosing London as their headquarters, it's no surprise that over 50% of our clients are based in the capital, and IE consultants are in London at least 2-3 times per week on average.
And with UK universities being an area of specialism, we also work across the whole country, with clients as far apart as the Universities of Aberdeen and Southampton. We've also worked with a number of clients in the Republic of Ireland, including University College Dublin.
We're based in the heart of Birmingham, in the historic Jewellery Quarter – just a few minutes walk from the City Centre. In 2022, we opened our purpose-built studio in the Kettleworks development, which formerly manufactured world-famous Swan Kettles.
Our central location offers the perfect opportunity for us to hop on the motorway or jump on the train regardless of your location. Current travel time by train to London is just over an hour – so we can often be with you faster than London agencies can travel across the city: offering you the convenience of a local agency, without their day rates.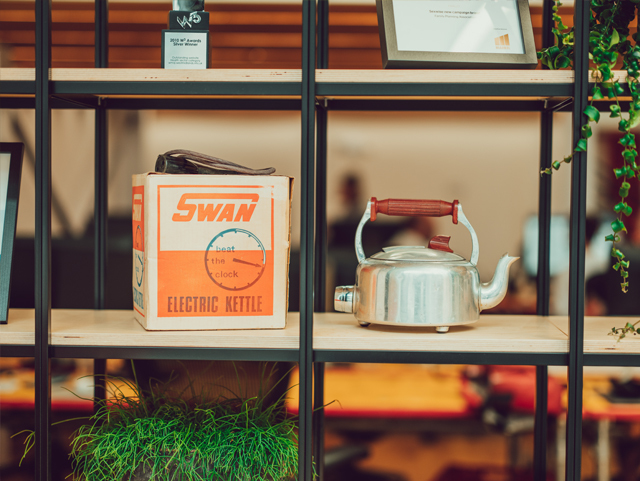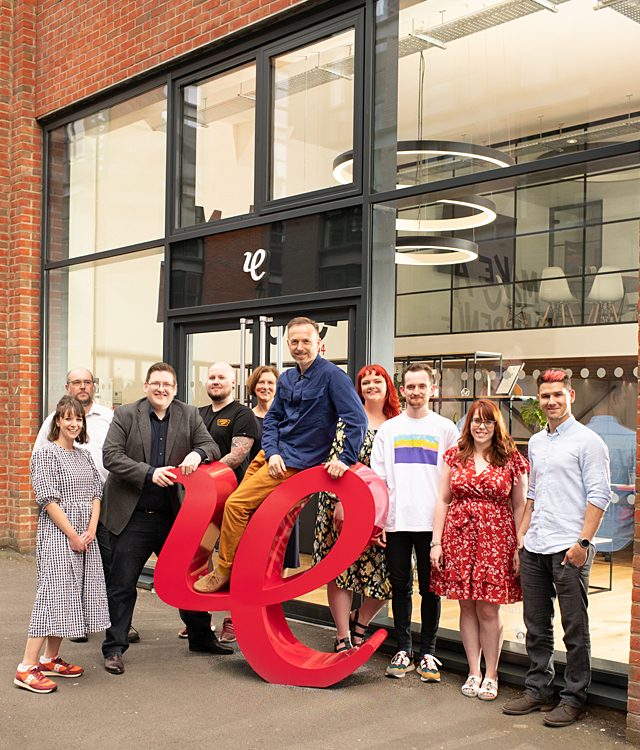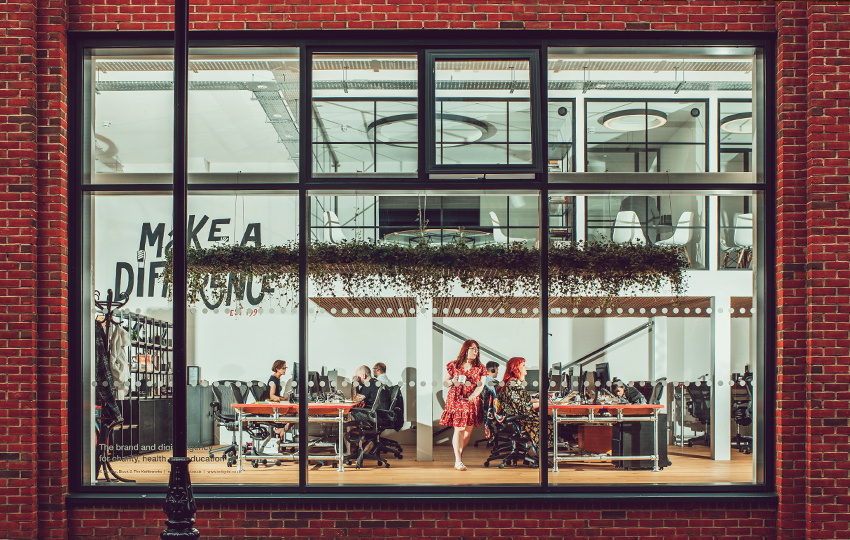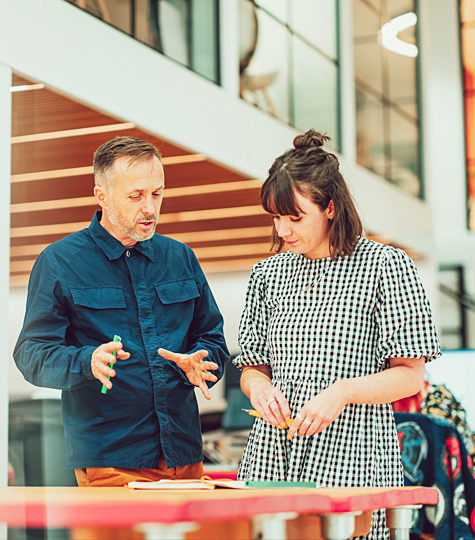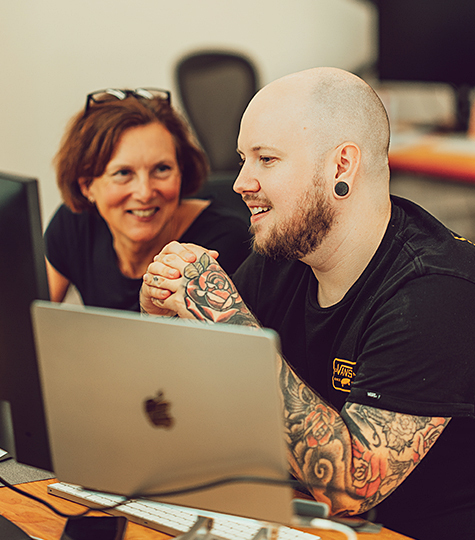 Off