Education
Rebrand – white wash or culture change?
IE Brand will be showcasing our rebrand of the University of Cambridge Careers Service at the AGCAS Heads of Service conference in Edinburgh. Was this just white washing over the leopard's spots? Or has working with a brand consultancy been a catalyst for lasting culture change?
---

---
The annual AGCAS Heads of Service conference is the place to be for university careers service professionals, and we're delighted to be back in 2019.
We'll be speaking alongside the University of Cambridge, who first spotted IE Brand at previous AGCAS events, and tracked us down last year when their hunt for a branding agency began in earnest. In fact, it was our MD and Brand Consultant, Ollie Leggett, who had first caught the eye of the Cambridge careers team with his talks at the AGCAS Heads of Service conference, where he's previously shared insights from some of IE's many university careers service rebrand projects. 
Can a leopard change its spots?
This time, Ollie will be supporting Amanda Norman, Rebrand Project Director at University of Cambridge Careers Service, in a member showcase session titled 'Can a leopard change its spots? Rebrand – white wash or culture change?' They'll be asking the questions, Can a leopard change its spots? And why would a leopard want to lose its spots anyway?
Delegates at the conference will join Amanda and Ollie on safari to the wilds of Cambridgeshire, for a rough ride through Cambridge University Careers Service's recent rebrand.
Looking at things differently
The Careers Service looked too much like every other part of the University, so they blended into the background, seeming invisible to students. They knew they weren't reaching enough students, who often found the service too late to make the most of the help available, so they needed to raise their profile.
But there was also a fear that the service might be overwhelmed. The Careers team were already maxed out with individual appointments. So how do you engage with greater numbers of students and reach people who previously didn't know you exist, without adding the straw that would break the camel's back?
The consultants at IE Brand helped the Careers Service to realise that the key to growing their impact was to make more of their high value resources and events, which were less reliant on careers advisers' time. There was capacity to reach more students and postdocs through skills sessions on core career topics such as interview skills and application forms. They could also bring tools like their CV book and vacancies database to a wider audience, without putting more pressure on careers advisers.
Peeling back the camouflage
This change of approach meant that Cambridge could peel back the camouflage and engage with more students, without biting off more than they could chew. IE Brand defined three new audience segments for the service, and brand messaging for each. This combined with a modern classic brand that could be applied to all of the Careers Service's comms, enabling them to stand out, while still adhering to the university's overarching brand guidelines.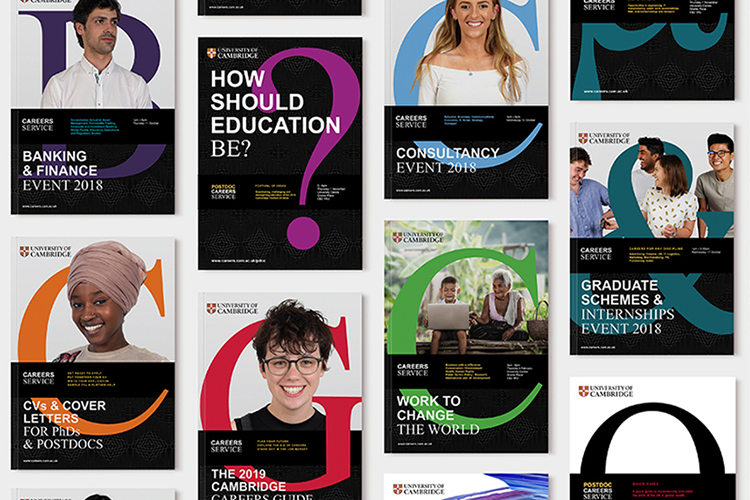 A catalyst for lasting culture change?
Was the rebrand project just white washing over the leopard's spots? Or has working with a consultancy like IE Brand been a catalyst for lasting culture change? As you've probably guessed, Cambridge have been delighted with the results of the project. Just a few weeks into the new academic year, the newly rebranded Careers Service is more visible than ever before, with a 12.5% increase in students saying they thought the Careers Service is 'visible' or 'very visible' compared with results of a survey at the end of the previous academic year. 
You can read more about the project and the great results we've had so far, and see the resulting visual identity, in our full rebrand case study. 
About the AGCAS Heads of Service conference
#AGCASEHOS2019 takes place from 9th-11th January 2019 at the Radisson Blu Hotel, Edinburgh. The event focuses on Careers Leadership, primarily pioneering and pathfinding. Delegates are new and existing service heads, deputy heads and aspiring heads of all levels of experience, who increasingly need to respond proactively to an environment of change and uncertainty. This includes a demand for creating strategic vision for careers by setting agendas and leading debate.
The workshops, presentations and activities throughout the day are designed to support HE careers professionals to lead the way in thinking creatively, and equipping students and graduates.
IE's showcase with the University of Cambridge is on Thursday 10th January at 3.15pm, and Ollie will be on the IE stand in the exhibition area throughout the day. We might see you there! 
Bring binoculars. Not for the faint-hearted.

Amanda Norman, Rebrand Project Director
University of Cambridge