Online-first campaign /
Film scripts /
Film production /
Brand messaging /
Marketing collateral

Education
TEDI-London
Online-first campaign /
Film scripts /
Film production /
Brand messaging /
Marketing collateral
IE Brand created an imaginative recruitment campaign for London's newest HE institute. We scripted and produced three campaign films to show what TEDI-London graduates might achieve over the next 50 years.
TEDI‑London is a new higher education provide‑r for future engineers, founded by Arizona State University, King's College London, and UNSW Sydney to address an industry-wide skills shortage. They are changing the way engineering is taught, to equip a new and diverse generation of engineers with the skills they need to transform society.
TEDI‑London can't offer students the tradition and heritage of the leading universities. So, its campaign and brand messaging need to appeal to pioneering students who are keen to learn in an ambitious and disruptive environment.
Step 1 - Listen
Recruiting for a brand new HE institute
TEDI‑London (The Engineering & Design Institute) approached IE Brand in September 2021 to create a student recruitment campaign with a difference.
The campaign will be at the centre of TEDI‑London's marketing and will build throughout 2022. TEDI‑London wants to double its intake each year, as part of a 5-year plan for growth.
Tempting students and persuading parents
The main challenge for TEDI‑London is its newness. They have no success stories of past alumni. No heritage or traditions like their redbrick competitors. No employability stats to share. And no impressive university rankings.
We needed to tempt students to choose TEDI‑London and persuade their parents and teachers to support that choice.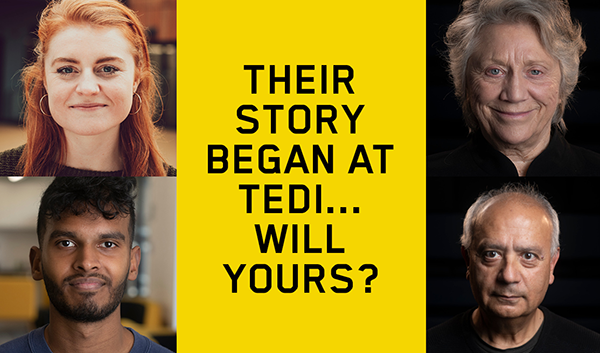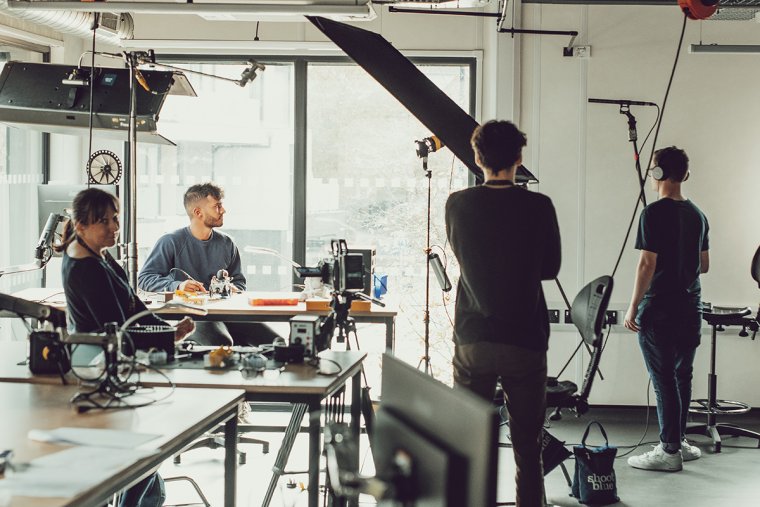 IE's understanding of the higher education marketplace meant they were able to fully understand the strengths of our proposition as well as the challenges of being a new provider.

They came up with a quirky and genuinely unique idea that's gone down incredibly well. And it was great fun working with them on the campaign.

The campaign perfectly captures both our ambitions for the present and our ambitions for the future – a diverse and creative engineering workforce that makes a difference.

Helen Merrills

Director, Marketing at TEDI‑London
Step 2 - Advise
Nailing the campaign message
The IE Brand team realised that as an emerging brand, TEDI‑London would have to look forward, not back.
We decided to make TEDI‑London's newness its biggest selling point, to attract the kind of students prepared to take a leap of faith. We needed to attract quirky, adventurous applicants with a pioneering spirit – ambitious enough to join TEDI‑London and to become the future engineers our society needs.
Attracting diversity of thought
Diversity had a role to play too. Not as a box-ticking exercise, but because people design for people like themselves. TEDI‑London wanted to see a strong female presence among its students, as well welcoming people from all backgrounds.
To encourage this diversity of thought, TEDI‑London runs an assessment centre for applicants. That means – unlike most engineering degrees – advanced maths or physics aren't a prerequisite. Instead, anyone with a good standard of basic numeracy can reach the standard they need to succeed as an engineer.
Building trust
To build trust, TEDI‑London had to make the most of the experience it does have. The three founding partners all have an exceptional pedigree for engineering degrees: Arizona State University, King's College London, and UNSW Sydney. This and other markers of quality – like the educators on the team – play an important part in TEDI‑London's brand messaging.
Imagining our future engineers
We knew that TEDI‑London students all want to make the world a better place. And that a career in engineering provides an opportunity to solve society's biggest challenges and make a real difference to people's lives.
We began to imagine what the new cohort of students might achieve over the next 50 years. After a multi-disciplinary engineering degree at TEDI‑London, how might graduates go on to shape society?
Telling our fictional alumni stories
We needed to fire the imaginations of TEDI‑London's future engineers. To get them thinking about their contributions to the world over the next 10, 20 or even 50 years.
We scripted three films to tell the stories of three fictional TEDI‑London students: Ali, Grace, and Maria. We explored their lives through 'before and after' films, with the students telling their own stories from the beginnings at TEDI‑London and then looking back 50 years later.
In our vision of the future, each one has forged a successful career in engineering. They have solved real-world problems in environmental sustainability, robotics, and smart cities. These stories explore some of the subjects taught at TEDI‑London, to show how students learn to tackle global problems.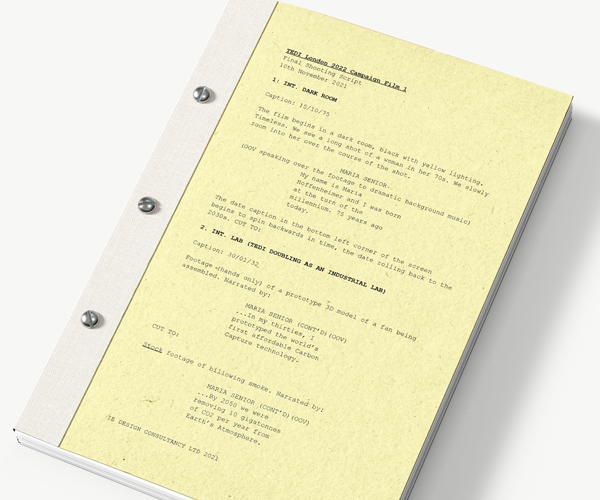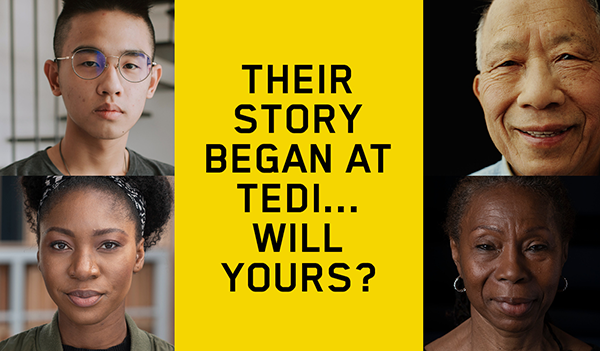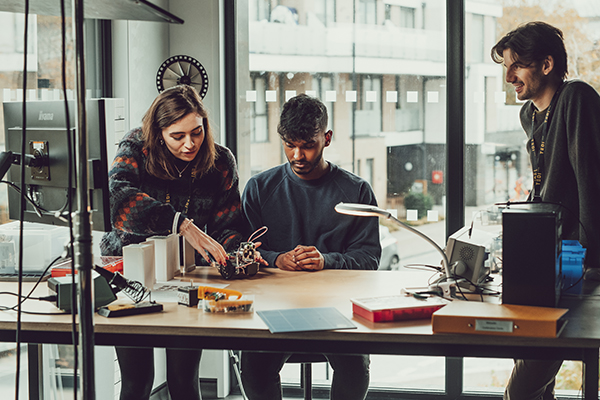 Step 3 - Deliver
Creating our campaign films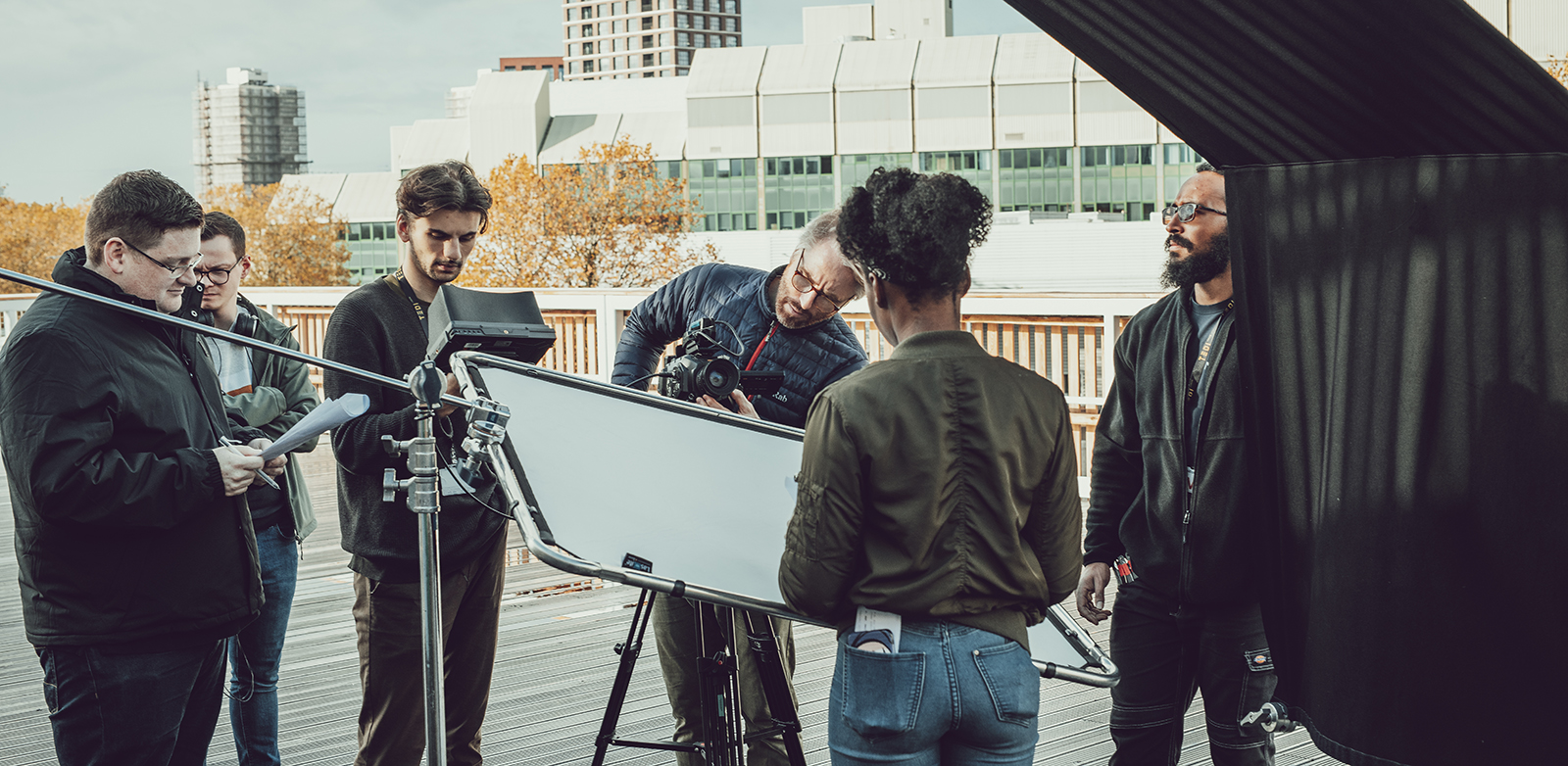 We began a search for three pairs of actors to bring these fictional TEDI‑London students to life. Both as 18-year-old undergraduates and as their older selves.
Casting our future engineers
For the concept to work, they had to be believable as the same characters. We were lucky to find our six time-leap doppelgangers:
Emily A Windham and Janet Amsden as future Nobel prize-winner Maria Hoffenheimer.
Sahan Hiddal and Shekhar Varma to play our robotics specialist Ali Patel.
Gloria Akinfe and Marsha Millar as smart cities pioneer Grace Alibe.
Shooting into the future
Once we'd found our cast, we co-directed the scripts with the education video specialists at Uni Shoots. We shot our 'undergraduate' actors on location at TEDI‑London's state of the art campus at Canada Water. They talk about their aspirations and show us what life is like for students at TEDI‑London, with its collaborative teaching methods and focus on real-life projects.
Then we needed to imagine our future world, without a Hollywood-scale special effects budget. Our veteran actors told the story of their ground-breaking work as future engineers. We filmed these segments documentary-style, against a plain black background. Then we cut this together with some carefully chosen stock footage.
Portraits of our future engineers
We also photographed each of our actors in close-up, to create headline images for the campaign. With some clever styling and careful Photoshopping, our time-hop twins were combined for some arresting split-screen portraits.
Rolling out the campaign
With the footage in the can, IE and Uni Shoots set to work editing the final videos as 3-minute films. We also created shorter, 30-second teasers for use on social media.
Meanwhile, the team created a suite of display ads and social media assets. We based these on TEDI‑London's vibrant visual identity in black and yellow.
We targeted the campaign messaging to two different student audiences:
Students who already know that engineering is for them.
Students who have the potential but aren't yet set on studying engineering.
We also mapped the main drivers, calls to action and campaign messaging for teachers, parents, and secondary school students.
Lastly, we prepared a press release to launch the campaign to the specialist education media.
The campaign launched before Christmas 2021, with the bulk of the work completed in just 4 weeks.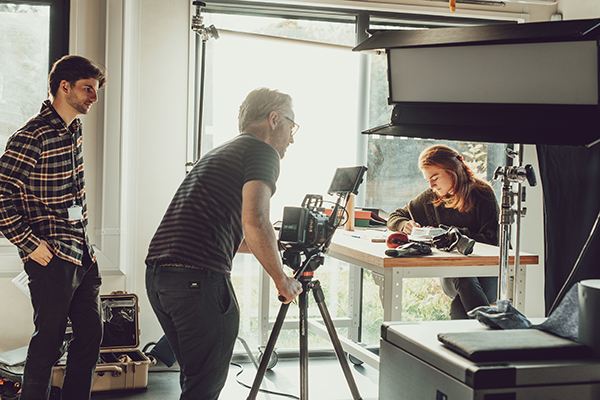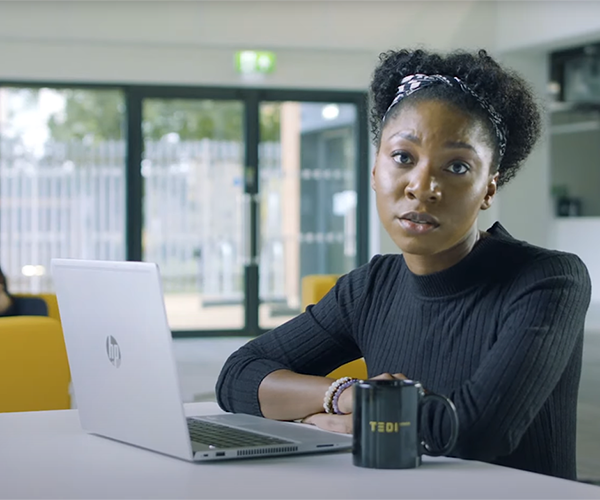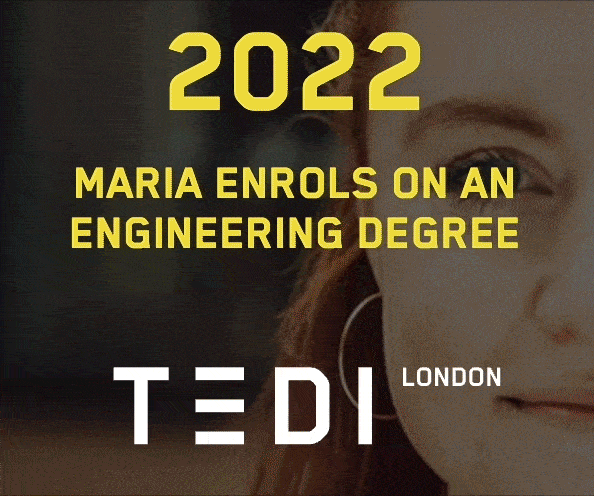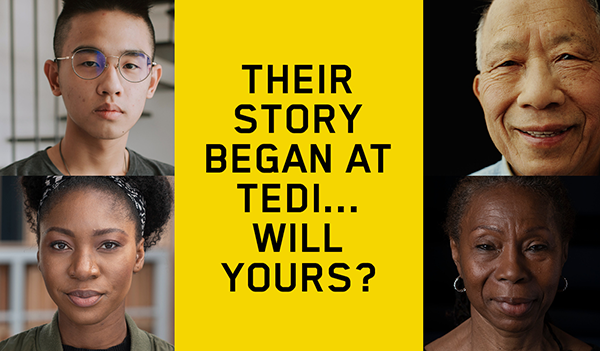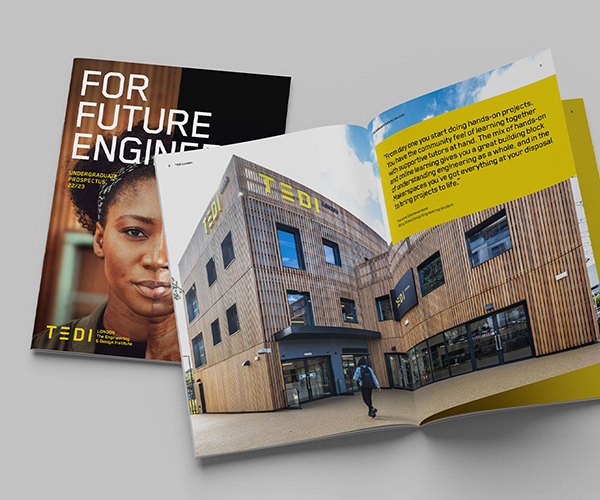 Step 4 - Support
Marketing collateral and messaging
IE Brand developed the online-first recruitment campaign, and delivered various other projects for TEDI‑London.
Building on the campaign, we prepared a messaging matrix for the institute. This outlines TEDI‑London's core beliefs, brand personality, and updated strapline and proposition.
We also updated TEDI‑London's marketing collateral based on the campaign visuals and messaging. These included a prospectus, international students guide, and UCAS stand artwork. We also created Instagram templates, event ads, flyers, and digital assets.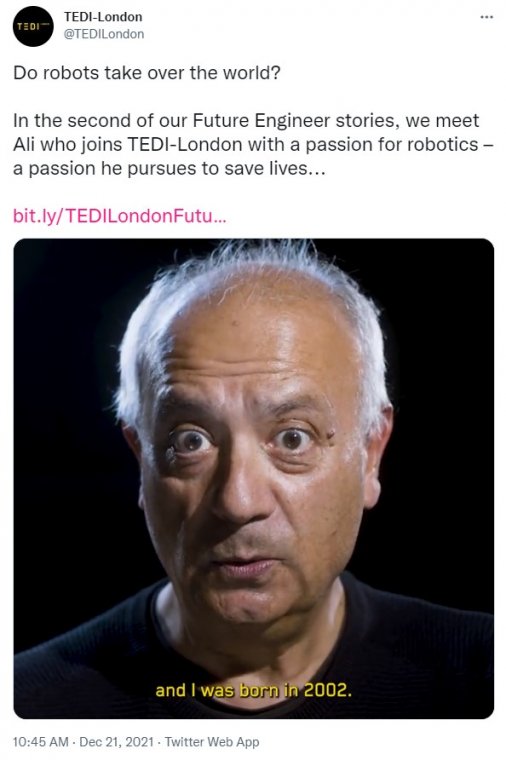 250,000 video views in the first month since launch

2022
Our fictional students enrol on their engineering degrees at TEDI‑London

2070
We travel in time to see how our graduates have solved some of society's big challenges